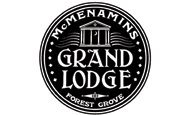 FRIENDS & FAMILY NIGHT AT McMENAMIN'S GRAND LODGE
Benefit for Forest Grove Library Foundation
Designed for all who like to eat and support a good cause — which is everyone — McMenamin's Grand Lodge is hosting a benefit gathering for the Forest Grove Library Foundation.
A Friends & Family Night event will be held Tuesday, Sept. 1, at the Grand Lodge, 3505 Pacific Ave., Forest Grove. Half the proceeds from the sale of food and beverages, 5 p.m.-closing, at Pat's Corner (outside on the front lawn) will go to the Forest Grove Library Foundation and their efforts to enhance the city library. Music will be provided by The Coin Club Band, local musicians Kirk Larson and Don Patch.
If the weather's wet, the event will move inside.  Ask at the desk.