Forest Grove Public Arts Commission Raises $11,550 for Mollie's Garden!
June 26, 2014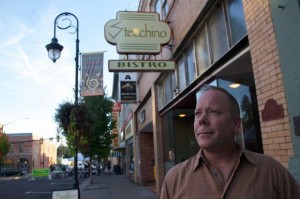 Late in the Fall of 2013, the Forest Grove Public Arts Commission (PAC) began a collaborative effort to raise $5,700 for the "Mollie's Garden" art project. After a community talent show ("Stars in the Grove"), a used car donation and a dinner with the artists, the Public Arts Commission has exceeded their fundraising goal.
54 library art enthusiasts attended the June 1 dinner at Stecchino's Bistro. Ed Carpenter, Greg Kriebel, and Eric Canon – the three artists involved in the project – presented information about the endeavor as well as sketches and a miniature version.
Stecchino's owner Randy Reeder donated more than half the proceeds from ticket sales ($60 each), and some of his employees donated their time. Ticket sales and donations garnered about $3,400 for the FG Public Arts Commission. "The dinner was a great success," said Kathleen Leatham, chairperson of the PAC. "The food was wonderful, and there was a very eclectic mix of people there supporting public art in Forest Grove."
The PAC also is directing $3,000 of their 2014-15 Community Enhancement Program funds from the city to the "Mollie's Garden" project, $850 from the sale of a donated vehicle, along with $3,000 from the PAC's CEP 2013-14 funds and $1,300 from "Stars in Grove." The total PAC donation to the Library Foundation's "Mollie's Garden" project amounts to $11,550!
The cost of the entire "Mollie's Garden" project is roughly $69,000; $45,000 for materials and installation of the Ed Carpenter glass sculpture; approximately $17,000 for the woodwork by Greg Kriebel and the metal work by Eric Canon; and about $7,000 for upgraded lighting. Installation is expected by Fall 2014.