Ed Carpenter art project
April 16, 2013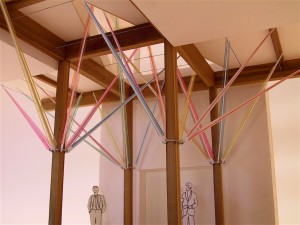 Now that the projects to improve the Children's and Spanish Language areas are nearly fully funded, the Forest Grove Library Foundation Board of Directors will turn its energies toward raising the funds necessary to install the beautiful glass artwork that world-renowned Portland artist Ed Carpenter has donated to the library in honor of his mother, Molly Starbuck, a long-time library volunteer.
As reported by the Forest Grove Leader on December 26, 2012, Mr. Carpenter donated his design approximately 13 years ago. He will work with local craftsmen — metalworker Eric Canon and woodworker Greg Kriebel — to install the artwork in the foyer of the library, a space designed and built to house the glass sculpture.
The materials and labor to build and install the piece will amount to $50,000. At the completion of the project, the Forest Grove City Library will offer visitors the opportunity to enjoy a spectacular work of art crafted in honor of a wonderful library volunteer.